Royaloak Eden Outdoor Set
Special Price
₹17,999.72
Regular Price
₹40,000.01
You save ₹22,000.00
55%
Delivery Details

 3 Days Express Delivery in Bangalore & Kolkata
Key Features
Rust Proof Textured Steel
Leatherette & Foam Cushion
Tempered Glass
Durable & Long Lasting
Available offers

Royaloak Rewards: Register & Get Rewarded 100% Cashback! Register Now

Shopping for a business? Unlock corporate deal
BUY-IN-BULK USP'S
YOU GET A BETTER PRICE, AS YOU ARE A REGULAR BUYER
WIDE VARIETY OF FURNITURES FOR ALL YOUR PROJECT REQUIREMENTS.
MULTI BRAND PORTFOLIO FOR CUSTOMIZED NEEDS AND PREFERENCES.
FIRST TO KNOW ABOUT OUR LATEST ARRIVALS AND UPCOMING DESIGNS, EVEN BEFORE THE LAUNCH
DISCOUNTED PRICING ON NUMBER OF UNITS AGAINST ORDERS BOOKED.
FASTEST ORDER COMPLETION AND INSTALLATION PRIORITY.
Login
Royaloak Eden Outdoor Set is a classic and elegant addition to your garden decor. You'll be able to enjoy beautiful summer days with your friends and family, sipping on lemonade or coffee while sitting at the lovely table. Made of rust-proof textured steel with Leatherette & Foam Cushion, this set includes two chairs and one table, perfect for enjoying breakfast or snacks in your backyard for years to come.
Store View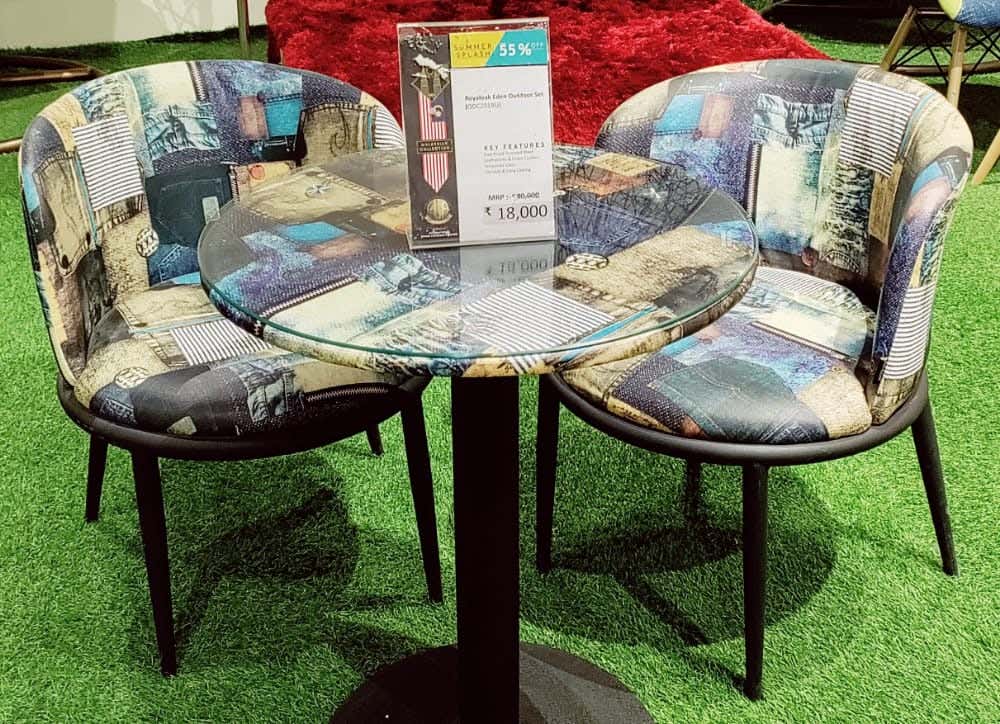 More Information
SKU
ODS203
Weight
21.200000
Dimensions
Table: Length:23.5 x Width:23.5 x Height:26.5 Inches
Chair: Length:22 x Width:21.5 x Height:28.5 Inches
Warranty
12 Months
Assembly Details
Installation provided by Royaloak
Package Details
1 Table & 2 Chairs
Time for Installation
10 Min
Material
Leatherette
Can the furniture be customized? While our Design Consultants in select cities will work with you to customize Room Designs, we are unable to customize products. Do you offer a warranty on your furniture product(s)? All Royaloak furniture products are either made by the finest artisans using high quality raw materials or are manufactured by large brands in their state of art facilities. We offer Brand Warranty for most of our furniture products bought of Royaloak.
| Warehouse Code | Qty |
| --- | --- |
| HR | 0 |
| KA | 0 |
| KA-1 | 13 |
| KOL | 4 |
| MUM | 1 |